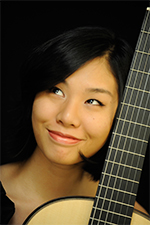 JIJI
Saturday, October 26, 2019, 2:00 PM
Frye Art Museum Recital Hall, 704 Terry Avenue, Seattle, WA 98104-2019
Artist Website | YouTube | Ticket Information

Applauded by the Calgary Herald as "...talented, sensitive...brilliant," JIJI is an adventurous artist on both acoustic and electric guitar, playing a wide range of music from traditional and contemporary classical to free improvisation. Her impeccable musicianship, combined with compelling stage presence, earned the Korean guitarist First Prize at the 2016 Concert Artists Guild International Competition.

Currently sponsored by D'Addario Strings. JIJI's performances have been featured on PBS (On Stage at Curtis series), NPR's From the Top, and Hong Kong broadcast station RTHK's The Works. Her recent EP recording, Underglow (May 2018), features acoustic music by Bach, Albeniz, Ginastera and Dyens, in addition to her own electronic composition.

A passionate advocate of new music, JIJI has premiered music by renowned composer, Paul Lansky, among many others, and she recently made her Carnegie Hall/Stern Auditorium debut with the New York Youth Symphony, performing the world premiere of a concerto written for her by American composer Natalie Dietterich--the first concerto ever written for both acoustic and electric guitar.

Born in Seoul, JIJI (Jiyeon Kim) moved to the US in 2009 to study with Jason Vieaux at the Cleveland Institute of Music. She earned her undergraduate degree from the Curtis Institute of Music in 2015, studying with Mr. Vieaux and David Starobin, as part of the very first class of guitarists in Curtis' distinguished history. She went on to earn her MM degree from the Yale School of Music, studying with Benjamin Verdery, and is currently Assistant Professor of Guitar at Arizona State University.


Paul Grove
Saturday, November 30, 2019, 2:00 PM
Frye Art Museum Recital Hall, 704 Terry Avenue, Seattle, WA 98104-2019
Artist Website | YouTube | Ticket Information

Dr. Paul Grove joined the inland northwest music community in 1995 while completing a doctoral degree in Russian music theory and guitar performance at the University of Arizona. He was invited by his colleague Leon Atkinson to live and work in Spokane, the place where Paul's teacher Aaron Shearer began his career. Though he was only going to stay for one year, he has remained and has contributed in the following ways:

He completed a Ph.D. dissertation on the contrapuntal theories of Sergei Ivanovich Taneev while receiving a Jacob Javits research grant. In addition, he received awards and distinctions in several national and international guitar competitions including the Guitar Foundation of America Competition, the Stotsenberg International Competition, The Great Lakes Guitar Competition, and the Norman Sholin Memorial Competition.

His students have received distinctions in several competitions including Guitar Northwest, the Wolff and Shaeffer Competitions at the University of Arizona, and Musicfest Northwest. Recently he was invited to teach 18th-century counterpoint at Gonzaga University, and he teaches guitar and ethno-musicology at Whitworth University.

As a performer, he has been a featured soloist with the Spokane Symphony, the Couer d'Alene Symphony, the Gonzaga Symphony, the Northwest Bach Festival, the Northwest Sacred Music Chorale, and other regional ensembles. He has toured throughout the US, as well as in Russia, Brazil, India, and Canada.

Paul's primary guitar instructor was Aaron Shearer; he studied composition with Jean Eichelberger-Ivey at Peabody where he joined Manuel Barueco as one of the first two guitarists to win the Peabody Conservatory Competition.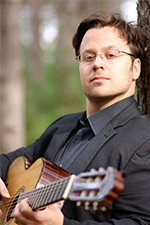 Michael Kudirka
Saturday, February 15, 2020, 2:00 PM
Frye Art Museum Recital Hall, 704 Terry Avenue, Seattle, WA 98104-2019
Artist Website | YouTube | Ticket Information

Hailed by the Los Angeles Times as "the excellent guitarist in Henze's unsettled score" and by Classical Guitar Magazine as "a leading proponent of new directions in classical guitar music", Michael Kudirka is among the most committed, daring, and diversely talented of the current generation of virtuoso guitarists. An avid and long-time advocate of cutting-edge new music, Kudirka has maintained a close collaboration with Los Angeles-based composer Jeffrey Holmes since 2002, and a retrospective album of Holmes's microtonal guitar works titled May the Bridges I Burn Light My Way has been released by MicroFest Records (USA) in 2019. In the same year Kudirka also released the world-premiere recording of Bryan Johanson's epic album-length composition 13 Ways of Looking at 12 Strings with Eric Benzant-Feldra on Les Productions d'OZ (Canada).

Michael Kudirka travels around the globe as a recitalist and chamber musician, and has performed at many notable venues, including: the Shanghai Conservatory of Music, Darmstadt Ferienkurse für Neue Musik, EUROMicroFest, Le Chappelle Historique du Bon Pasteur, Covent Garden, Conservatorio de Las Rosas, Palace of Fine Arts, Walt Disney Concert Hall, Zipper Recital Hall, and REDCAT. November, 2017 saw the completion of his third production run of Thomas Adès's The Exterminating Angel at The Metropolitan Opera of New York following performances at the Salzburger Festspiele (Austria) and The Royal Opera House (UK). Kudirka worked personally with Adès on the composer's first-ever music written for guitar, and a DVD of The Met's Fall 2017 production will be released by Deutsche Grammophon.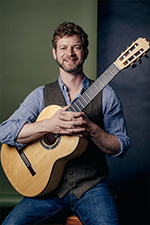 Jon Paul Yerby
Saturday, May 9, 2020, 7:00 PM (PDT)
Artist Website | YouTube
(Please note the Time Zones for this concert: 7 pm - PDT, 8 pm MDT, 9 pm CDT, 10 pm EDT)

The Seattle Classic Guitar Society is proud to present Dr. Jon Paul Yerby in a free Facebook Livestream concert on Saturday, May 9, 7:00 pm Pacific Time. Stay home, stay healthy, and enjoy classical guitar music by this "fine guitarist of taste and refinement who possesses one of the world's most beautiful natural guitar sounds." - Eliot Fisk
The concert will be streamed live on the Facebook platform; you can view the concert without a Facebook profile or without logging in to Facebook. The full concert will also be available after the concert is over. The live-streaming link is located at https://www.facebook.com/jon.yerby.50/videos/154672249401482/.
Born in Celle, Germany, Dr. Jon Paul Yerby has performed across four continents and served on the faculty of five major Universities. Jon's teachers and mentors include such luminaries as Eliot Fisk, Oscar Ghiglia, John Gibbons, Tom Johnson, Adam Holzman, and Bruce Holzman. Dr. Yerby holds degrees in Classical Guitar Performance from The University of Texas at Austin (B.M.), New England Conservatory (M.M.), and Florida State University (D.M.A).

An acclaimed recitalist and chamber musician, Jon has performed with the Park City Beethoven Festival, ICPNA International Guitar Festival in Peru, The Utah Opera, and tours annually throughout the United States and Europe. He has also served as a guest artist at the University of Wittenberg-Halle in Leipzig, Germany.

Jon also collaborates with dance artist Alexandra Bradshaw Yerby as the duo '7&1,' creating original pieces featuring contemporary dance with live guitar. In February, 2017, Yerby was commissioned to perform the Bach Chaconne as part of a solo dance piece with New York's famed Limón Dance Company. Yerby is currently working on his first documentary film score for the film Love Evolved, a feature length documentary film portraying the scientific quest to understand inner peace, by Dr. Steven Pierce, MD.